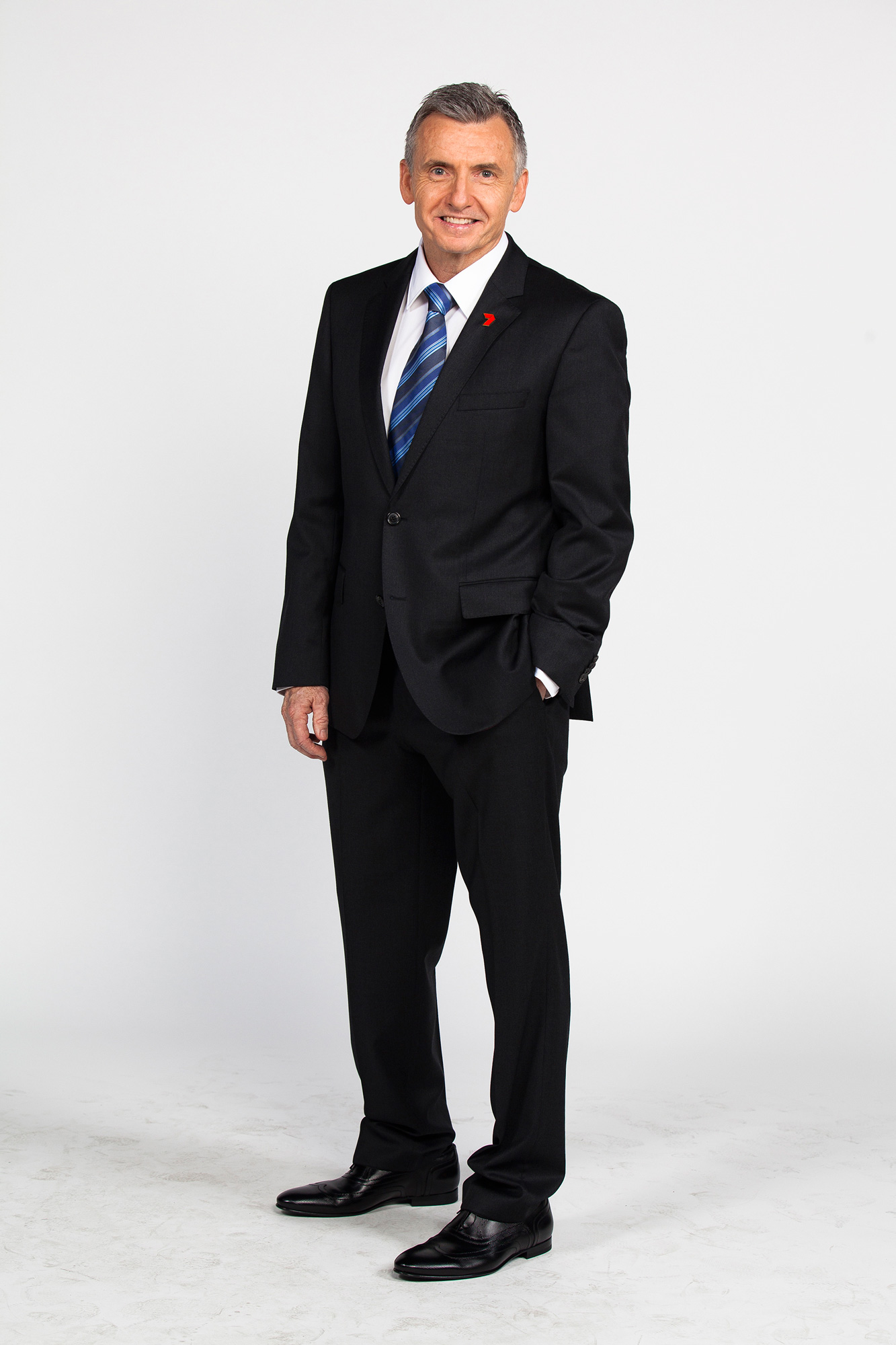 I'm not a huge sports fan, in fact I actively dislike football, but other members of my family love it. They love it in a way that makes me question why I dislike it so much. They see the humour in it, the depth in it, the magic of it. I just see rapings and violence, ignorance put on a pedestal.
When I got the chance to interview the sports journalist Bruce McAvaney for Six Burning Questions, I leapt at it. My family love Bruce, to the point where they named their football after him. Years ago, we were sitting at Adelaide airport – I think I was flying overseas – and Bruce was waiting for the same plane as me. My brother, sister and father were overcome by nervous giggles just to be in the same airspace as their beloved Bruce. Of course they didn't talk to him then – who would interrupt Bruce when he was reading the paper, formulating opinions?
From talking to Bruce, I was reminded of that magic that people find in sport. He loves it, he really does. In a gentle, thorough way, an intellectual and emotional way. I asked my dad and sister to give me questions to ask him so I didn't sound stupid, but I told him that was the situation, so I wasn't completely faking it. Anyway, here he is: Bruce. This interview was conducted in June, 2014.
How do you source your background knowledge and statistics?
My father was an accountant, so probably from him I learned to do facts and figures as a kid. Dad was very methodical in the way he went about certain things and I probably picked it up from him. Now I have some terrific help from a lot of people but mainly from Josh Kay. He's a researcher from Channel Seven. He and I have a bit of a game plan and I'll be continually asking Josh questions. We work together pretty closely and he feeds me a lot of the things that I need or am curious about. It's a methodical operation we've been doing for a lot of years now. I'm a bit of a slow learner to be honest, and I think I need to be methodical and quite detailed.
So you're not coming in fresh every season.
I find at the start of every season I have to reinvigorate my mind. With AFL I leave it for three or four months and I get very heavily involved in tennis and racing, so whilst I'm still interested in the off-season. Come February I basically start from scratch. I reinvigorate my knowledge and my curiosity. I work with ledgers rather than computers. It's a matter of treating every season as a new one, even though you have residual knowledge after so many years.
What do you think of the expansion of football as a national sport? Will the new teams succeed in making the game more popular in NSW and Qld? 
I think it's a bold but very necessary move. I think if the AFL had circled the wagons around Victoria and South Australia, Western Australia and Sydney five years ago and said 'we've got a very strong competition that is going to protect us from this point on,' they would've lost the battle. You're forever having to stretch. We're a very strange country. The Murray divide. We have Aussie Rules, Rugby League, Rugby Union and soccer. I think they had to go out and test the frontiers. It's a long-term, 20-50 year operation. I think AFL will maintain its number one position in Australian sport. It will never dominate in New South Wales or Queensland but it will get a very healthy proportion of interest. I'm fully in favour of what they've done with Greater Gold Coast and Western Sydney.
How does Tasmania fit in?
Look, they're playing six games there a season, four for Hawthorn and two for North Melbourne. I'm absolutely thrilled about that. I'd love to think they'd be able to get Tasmanian football to a point where there's a match every second week. The romance in me says why can't Tassie have a team?
What are some of the inequalities in the national competition?
That's in programming. It's a bit tricky with the Tasmanian situation because the Western Australian teams do play down there. Hawthorn are not going to play Collingwood in Tasmania because they haven't got a stadium that will fit the 50 to 80,000 that the AFL want them getting. It is a difficult process, but if you look at the whole of the AFL one of the things that is part of the narrative is an inequality in the scheduling. We have 22 matches and 18 teams, so you play every team once and five teams twice. The Perth teams are advantaged and disadvantaged. Disadvantaged in that they travel more than any other state in terms of distance. But they also have this enormous advantage in that every second week they're at home and the teams have to travel a fair way to come to them. There is an inequality and we live with it but we don't love it. There is a spread and no team dominates for long periods because of the way it's set up.
What do you think should happen to Essendon? Should they be penalised further?
I'm cautious when answering these questions. I feel like it hasn't played itself out yet. Like everybody else I was shocked in 2013. God blimey did this really happen? And what really did happen? Until ASADA finalise its report we're still a bit uncertain. I think they copped a very strong sentence last year and I think the penalties have been spot on. Let's see what happens in the next six months. The thing we have to get our heads around is ASADA has eight years if they want to finalise this investigation. We all want it done and dusted and out of the way so we can get on with life.
You're passionate about a lot of sports. Do you find time to follow them all during the AFL season?
Not as much. It's all-encompassing. My year is divided through the fixtures. For six to seven months AFL is almost overwhelming because it's so interesting. Everyone working in the media becomes completely entranced and seduced by it. I love the ebbs and flows both on the club and individual level. All the things that surprise and thrill us. But I have a very strong interest in racing and athletics and tennis. I do keep little books in which I write things down about certain sports. Certainly my main four sports are AFL, racing, athletics and tennis. I feel very privileged to speak very publicly about something that people care so much about and that's the truth.
'For six to seven months AFL is almost overwhelming because it's so interesting.'
Are you an active participant in sport?
I don't play any team sports any more. I used to play Aussie rules football and cricket to a reasonable level up to my twenties. I wanted to be a test cricketer or a SANFL player. They were two of my dreams and the other one was to call the Melbourne Cup. So that's one out of three – I didn't do as well as Meatloaf but anyway. I'm 60 years of age and I go for a run every few days and I do some exercise every day of my life. I make a point of trying to stay fit and healthy because I enjoy that feeling. I'm hooked on endorphins. I'm not half the runner I used to be but I still enjoy getting out there.
Why do you live in Adelaide?
I lived in Adelaide until I was 30. At the end of 1983 I went to Melbourne and stayed for 16 years. At the end of 1999 I returned to Adelaide with my wife Annie and our two young children Sam and Alex and we've been back here ever since. On a Friday night when I fly in to Melbourne to do the football, Dennis flies in from Perth, Tom flies in from Sydney, Lee flies in from Brisbane and the rest are all Melbourne based. All the footie states are represented on a Friday night. We came out principally because my parents were old and starting to struggle with their health. I had a fantastic relationship with them and I've got a brother and sister who are here as well. I wanted to come back and help them in their last decade. I was able to do that and they've both passed away. My wife Annie's family is here too, so it is where we are from. Channel Seven have been quite superb in how they've supported that. We've tossed and turned about returning to Melbourne and there's still a chance we might return but that's undecided.
Are your kids as passionate about sport as you are?
Not really. My daughter is 16 and she plays a little bit of sport. My son Sam is into sports but not the ones I follow. He's very heavily into the American basketball and baseball and the European football. My daughter is a work in progress. She's far more interested in Kim Kardashian or Beyonce than she is in what happened to Essendon last year.
What has changed more over the years – the sports world or the media?
If I was doing a phantom call of the two of them they'd be stride for stride in many ways. They both have changed immeasurably in many ways. You just take it in your stride from year to year because that's the way it is. It's been a quantum leap in what I've seen in Australian sport over more than 30 years now, the way it's structured and run and organised, the structures and facilities, the scheduling of it and obviously the money that's around. Emphasis on some sports has gone through the roof and others have probably gone backwards. I've seen incredible change in the landscape of Australian sport. I guess one of the biggest things has been our interest in what's happening overseas. Through media we're very aware of all the major things. The media is far more sophisticated. You feel like the stakes are a lot higher and it's a lot more business orientated than it was, yet it's still as much fun. It's still a great challenge but it's a more complicated challenge. It's still thrilling to work in it but boy it's changed. There's a lot more ex-players in all sports that are contributing to media and I think that's fantastic. It's a very good question and it's a bit like Makybe Diva going stride for stride with Black Caviar over a distance that suited both of them.
What's the biggest thing that's changed in the media over the past 30 years?
The push towards personality. We learn more about the people that are playing the game. That's the way of the world isn't it? It's fantastic in some ways and very cruel in others because there are a lot of things out there you'd be frightened to read. I don't know how some people stand the heat in the kitchen sometimes. There's no turning back.
Do you have time for interests outside of sport?
I'm a pretty simple fella. I love to read, I love going to the movies and I enjoy travelling. I like music as well. I'm not a gardener. My main interests outside my work are reading, film and music. I was a terrible student who didn't try very hard but I've become more studious as I've got a little bit older. I reckon if I had another 50 years I'd love to go and work for the United Nations, collect all their data from all the countries around the world to see where they're at.
Who's taking home the premiership this year?
It's a week to week question. Today I'm going for Fremantle. I'm like everybody else – I'm reactionary, I'm in the moment and that's what footie's all about. Ask me in a fortnight's time but right now I'm going for the Dockers.
Thanks Bruce. It's a great pleasure to talk to you.
Thank you mate and thank your father for his input alright?
I definitely will. My brother and sister wanted me to pass on the fact they named their football Bruce after you.
Tell them I'm very flattered. There's not many Bruces left in the world, it's a dying name a bit so I'm very pleased they've kept it going.
They'll be very glad to hear that.